2 x [NEW] Lego Round Tile 1 x 1 with Water Power Symbol-Trans Dark Blue -98138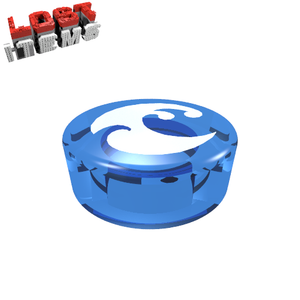 ---
Zustand: neu Kategorie: Rundfliese Artikel: Rundfliese 1 x 1 mit Elben Wasserkraft Symbol - 98138 Farbe: transparent-dunkelblau Stückzahl: 2
Bei Kauf mehrerer Artikel bitte Gesamtbetrag anfordern. Unabhängig von der bestellten Menge LEGO Einzelteile gelten innerhalb Deutschlands pauschal die oben angegebenen Versandkosten. Bei Fragen: info@lost-items.de Warnhinweis: Nicht für Kinder unter 3 Jahren geeignet, verschluckbare Kleinteile - Erstickungsgefahr.
Condition: New Category: Tile, Round Item: Tile, Round 1 x 1 with Elves Water Power Icon Pattern - 98138 Color: Trans-Dark Blue Lot size: 2
We offer combined shipping. Please pay multiple items together to get the shipping discount. The customer bears the cost of any import duties. For questions please contact info@lost-items.de Warning: small parts - choking hazard.

LEGO, the LEGO logo, the Minifigure, DUPLO, MINDSTORMS and LEGENDS OF CHIMA are trademarks of the LEGO Group. ©2017 The LEGO Group.
Farbkatalog / Color Guide
Lost Items Name LEGO ID LEGO Name Bricklink ID Bricklink Name
alt-dunkelgrau
27
Dark Grey
10
Dark Gray
alt-hellgrau
2
Grey
9
Light Gray
beige
5
Brick Yellow
2
Tan
blau
23
Bright Blue
7
Blue
braun
25
Earth Orange
8
Brown
dunkel-azurblau
321
Dark Azur
153
Dark Azure
dunkel-blaugraudunkelgrau
199
Dark Stone Grey
85
Dark Bluish Gray
dunkelbeige
138
Sand Yellow
69
Dark Tan
dunkelblau
140
Earth Blue
63
Dark Blue
dunkelbraun
308
Dark Brown
120
Dark Brown
dunkelgrün
141
Earth Green
80
Dark Green
dunkelorange
38
Dark Orange
68
Dark Orange
dunkelrosa
22
Medium Reddish Violet
47
Dark Pink
dunkelrot
154
(New) Dark Red
59
Dark Red
dunkelviolett
268
Medium Lilac
89
Dark Purple
fleischfarben
18
Nougat
28
Flesh
gelb
24
Bright Yellow
3
Yellow
grün
28
Dark Green
6
Green
hell-blaugrau hellgrau
194
Medium Stone Grey
86
Light Bluish Gray
hellblau
212
Light Royal Blue
105
Bright Light Blue
helles Hellgrau
103
Light Grey
49
Very Light Gray
hellgelb
3
Light Yellow
33
Light Yellow
hellgrün
37
Bright Green
36
Bright Green
hellorange
191
Flame Yellowish Orange
110
Bright Light Orange
hellrosa
222
Light Purple
104
Bright Pink
kupferfarben
300
Copper, Drum Lacquered
84
Copper
laveldelfarben
325
Lavender
154
Lavender
limettengrün
119
Bright Yellowish Green
34
Lime
Maersk blau
11
Pastel Blue
72
Maersk Blue
metallicgold
299
Warm Gold, Drum Lacquered
65
Metallic Gold
metallicsilber
298
Cool Silver, Drum Lacquered
67
Metallic Silver
mittel-azurblau
322
Medium Azur
156
Medium Azure
mittel-lavendel
324
Medium Lavender
157
Medium Lavender
mittelblau
102
Medium Blue
42
Medium Blue
mitteldunkel-fleischfarben
312
Medium Nougat
150
Medium Dark Flesh
mittelorange
105
Bright Yellowish Orange
31
Medium Orange
olivgrün
330
Olive Green
155
Olive Green
orange
7
Orange
4
Orange
perl-dunkelgrau
148
Dark Gray Metallic
77
Pearl Dark Gray
perl-hellgrau
131
Silver
66
Pearl Light Gray
perlgold, gold
297
Warm Gold
115
Pearl Gold
purpur
124
Bright Reddish Violet
71
Magenta
rot
21
Bright Red
5
Red
rotbraun
192
Reddish Brown
88
Reddish Brown
sandblau
135
Sand Blue
55
Sand Blue
sandgrün
151
Sand Green
48
Sand Green
sandrot
153
Sand Red
58
Sand Red
schwarz
26
Black
11
Black
silbermatt, matt silber
179
Silver Flip/Flop
95
Flat Silver
transparent-dunkelblau
43
Tr. Blue
14
Trans-Dark Blue
transparent-dunkelrosa
113
Tr. Medium Reddish Violet
50
Trans-Dark Pink
transparent-gelb
44
Tr. Yellow
19
Trans-Yellow
transparent-grün
48
Tr. Green
20
Trans-Green
transparent-hellblau
42
Tr. Lg Blue
15
Trans-Light Blue
transparent-hellgrün
311
Tr. Bright Green
108
Trans-Bright Green
transparent-klar
40
Transparent
12
Trans-Clear
transparent-mittelblau
143
Tr. Flu. Blue
74
Trans-Medium Blue
transparent-neongrün
49
Tr. Flu. Green
16
Trans-Neon Green
transparent-neonorange
47
Tr. Flu Reddish Orange
18
Trans-Neon Orange
transparent-orange
182
Tr. Bright Orange
98
Trans-Orange
transparent-rot
41
Tr. Red
17
Trans-Red
transparent-schwarz
111
Tr. Brown
13
Trans-Black
transparent-violett
126
Tr. Bright Bluish Violet
51
Trans-Purple
weiß
1
White