Nice Vintage 1950's 1 Cent Victor Football Pinball Flip Gumball Machine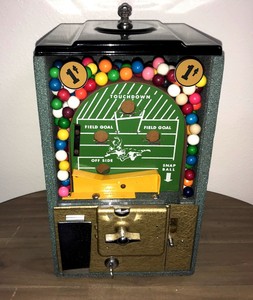 ---
Up for auction is this very nice Victor Football pinball / flip gumball vending machine in beautiful condition and great working order.  This was made by Victor Vending Corp, circa 1950's. 
Nice 1 cent decals, original glass and original shiny chrome accents with just some minor pitting.  Nice hammertone gold paint and that great textured green cabinet colors---very reminiscent of the era.  Besides getting a gumball for a penny, you were able to score a field goal or touchdown!!  After depositing a penny and turning the handle, your gumball fell into a slot with a flipper.  The game continued until you flipped the gumball into the "playing field" then you could score "field goal or touchdown" or you could get a penalty and be called for "offsides" :-)  
No matter what, a gumball would always come out.  The machine measures 14" x 9" x 9" and comes with both original Victor locks and both original Victor keys; one for the top to fill with gum and one at the bottom to get to the money---no file cabinet replacement locks & keys here!!
Gumballs are for display only and not included.  Shipping will be higher in Alaska, Hawaii, US V.I.'s & Puerto Rico.  I do ship internationally through 's "Global Shipping Program".  Please check out my other machines that I will be listing.  Thanx and GOOD LUCK!!! :o)